The Love Finders Next Theatre Show

Tickets now on sale...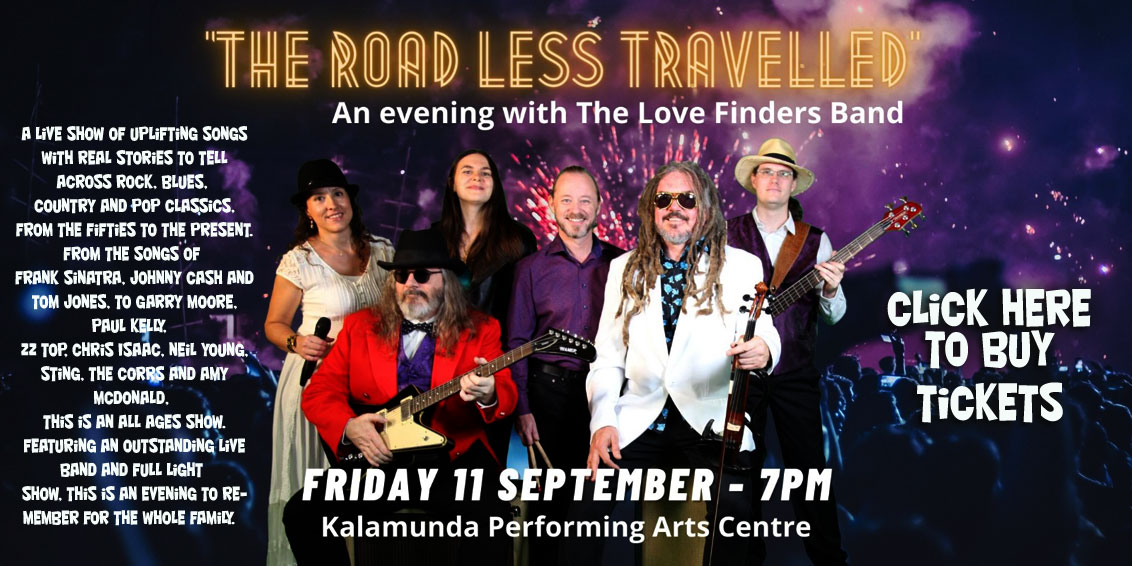 A live show of uplifting songs with real stories to tell across rock, blues, country and pop classics, from the fifties to the present. From the songs of Frank Sinatra, Johnny Cash and Tom jones, to Garry Moore, Paul Kelly, ZZ Top, Chris Isaac, Neil Young, Sting, The Corrs and Amy McDonald, this is an all ages show. Featuring an outstanding live band and full light show, this is an evening to remember for the whole family.
Click here to buy tickets for the Kalamunda Performing Arts Centre Show
The Love Finders Band 30 minute video sampler
For best viewing select Hi-Definition - 720p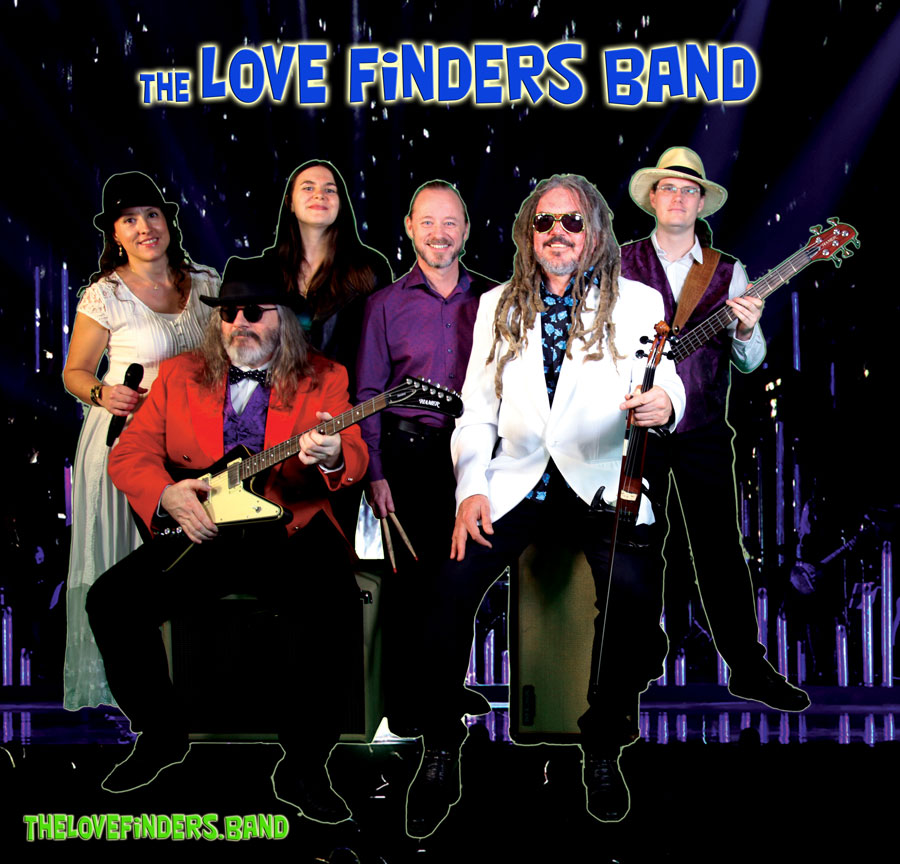 We can't wait to inject our joy into your event!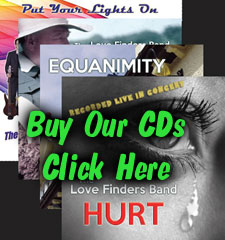 The Love Finders Band is both a cover and original band based in Perth, Western Australia.
The Love Finders Band features electric violin, guitar, keyboards, bass and drums. The band's deep love for storytelling through their music brings together a show featuring the immediately identifiable electric violin and guitar sound, and the band's own unique musical style. Classics from gentle acoustic renditions, to lively house rockers and searing blues… and always some surprises!
Fronted by both Michael King on guitar and Rupert Guenther on electric violin, with Segolene King on keyboards, Campbell Carew on drums and Nathan King on bass, The Love Finders Band play easy going traditional blues, classic country, classic rock, instrumentals, and swing classics.
The band brings their great love of making music together and a deep friendship between the players, where the music is all about weaving the feeling and the story-telling. Coupling Rupert's experience of decades working as sideman to the stars (Sir George Martin, Olivia-Newton John, Demis Roussos, John Farnham etc) with Michael's heart-felt guitar and vocals, Segolene's tinkering of the keys and vocal magic, Campbell's joyous drums and Nathan's salt-of-the-earth bass playing and vocals (and his ubiquitous white hat!), this is music to uplift and enlighten, not just entertain.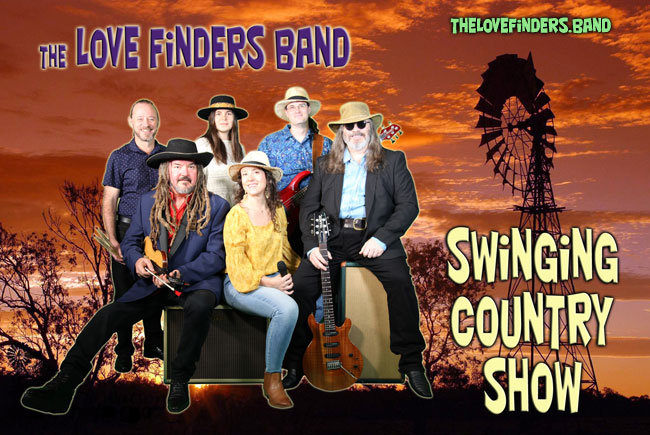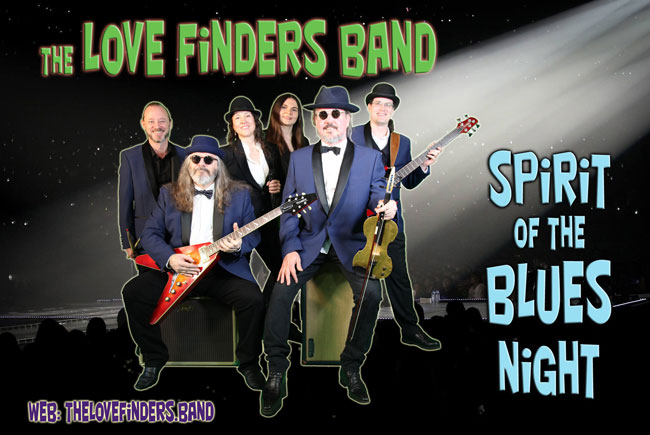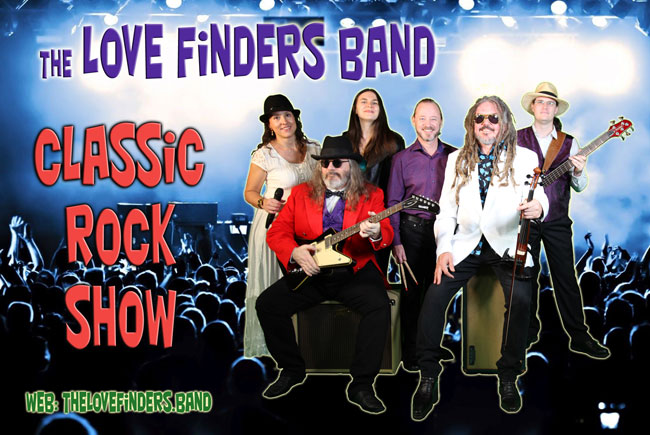 We perhaps have somewhat of a different attitude and motivation than many other bands these days, in that it's not all about our egos, rather it's about providing entertaiment and bringing joy to the audience. We prefer venues where the focus is mostly about facilitating a fun entertaining experience, or a fine dining and show expereince for their patrons, rather than simply consuming huge amounts of alcohol. We are all non drinkers, non smokers, and non recreational drug users. Our behavior is professional and courteous in all moments. We'd love to come and play at your Wedding, Party, Event or Private function. We love our music and we love sharing our love of music with others. Some might call that soul.

The Love Finders Band came to life in 2015, drawing from the members' shared love of a wide range of popular and classic music. The band was born of a nostalgic fondness for the old days when you could go and enjoy a great show with good friends and family, to see a band that was all about just sharing a really fun time. With over 100 years of collective involvement in live music, the band has an eclectic repertoire that ranges from the swing standards of Dean Martin and Frank Sinatra, classic rock from the likes of Buddy Holly and Frankie Valli, to Bryan Adams and Pink Floyd, blues from the likes of Gary Moore, Elmore James, Link Wray, BB King, ZZ Top and Eric Clapton, and country ranging from Kenny Rogers, Steve Earle and The Highwaymen to Keith Urban, Willie Nelson and The Dixie Chicks….. and everything in between.
The Band performs occasionally as a 2-piece or 3-Piece, but usually as a Quartet, or 5 piece Band.

By combining our state of the art compact Bose PA system and an electronic drum kit we are able to deliver great sound at relatively low volumes, or we can also easily deliver a great show to 1500 people or more. We also provide our own dynamic light show. Although we are not a loud band we are also not a 'poked in the corner background band'. We like to put on a show and we enjoy engaging with the audience, we like to black the stage area, we usually use a dynamic light show, and we have someone mixing out in the audience area (who takes up very little space). We are a proper band, with production, and we put on a proper show just like most bands did back in the 80's and 90's.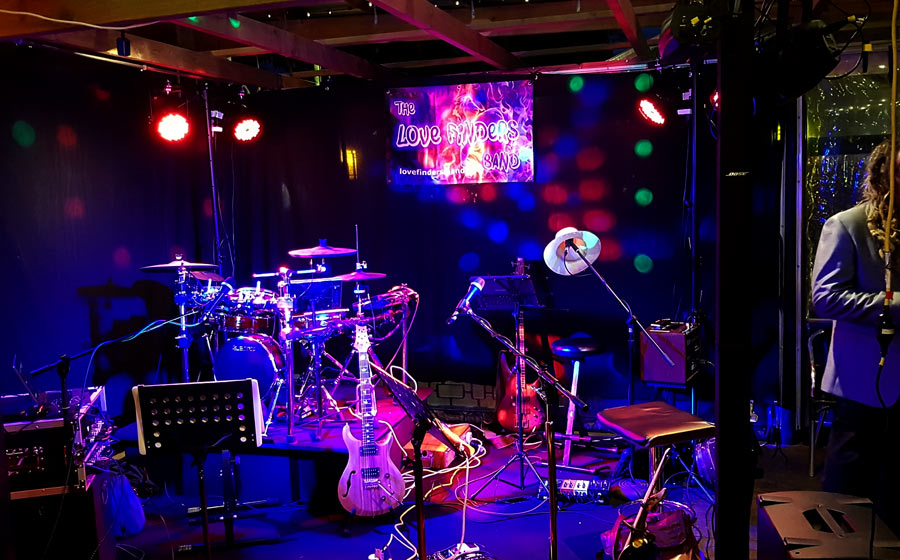 We'd love to hear from you. So please, fill out the contact information if you have any questions
We can't wait to inject our joy into your event!